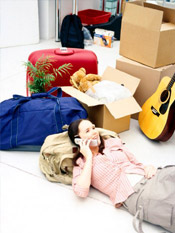 Once you have gone through customs, you will be greeted by the CMU's Orientation Team and accompanied first to your dorm to leave the luggage and then to the campus. Room keys will be provided by Housing Coordinator, a member of the Orientation Team.
Please don't forget to contact your families and/or friends upon arrival to inform them about the trip and the environment otherwise they may worry about you.
UPON ARRIVAL AT THE AIRPORT:
Have your passport and all important documents ready when going through customs.
Once you have gone through customs, you will be greeted by the CMU's Orientation Team and accompanied to your room.
Important: If, due to a miscommunication or other reasons someone does not meet you at the airport, you can take a taxi to the campus.
ORIENTATION
All new students should attend the Orientation at the scheduled time, when they can pick up orientation packets, interact with the faculty members and university administration.
REGISTRATION
Before arrival on campus, you should have received your Registration Packet by mail from the Office of Admission. If you have not received it, please go to the Dean of Students Office for assistance. You must have this Packet before proceeding with registration.
Your registration packet contains everything you need in order to register at Caribbean Medical University, including any updates regarding time or venue changes.
If you have ordered books or other items from CMU Online Bookstore, you will be given directions in regard to picking up your order.
If you have a physical or learning disability for which you may seek special consideration during your matriculation at CMU, you must provide documentation of this condition at or prior to registration, which will be submitted to the Dean of Students Office.
EXPLORE CMU
Upon successful registration you have officially become a CMU student and now it's time to enjoy the island and get ready for classes. Don't hesitate to contact the university administration if you have any questions or concern during your study. We are all here for you to help with any type of problems.
Thank you for choosing CMU and good luck on your way to fulfill your dream of medical career.