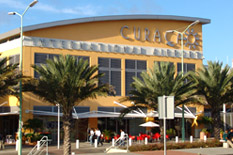 Curacao has a modern international airport, and the island is served by a number of airlines-connections can be made to any part of the world. 
Hato, the Curacao International Airport boasts the longest runway in the Caribbean at 3,410 meters in length and 60 meters in width. The runway is capable of handling almost any type of aircraft including jumbo jets.
Curacao has daily non-stop air services from the U.S., and daily flights to Venezuela and from the Netherlands. Curacao also offers flights to Surinam, Colombia, Puerto Rico, Jamaica, Trinidad & Tobago and St. Domingo, Bonaire, Aruba and St. Marten.
Important: If you encounter travel difficulties, contact the U.S. Office or the campus immediately.
Here are some important steps to take and helpful tips when traveling to Curacao.
STUDENT VISAS
The Government of Curacao further requires that all adults entering the country for more than three months must have submitted a Residence Permit application upon arrival. The Student Residence Permit will be obtained on behalf of the student by our Admission Department upon submitting all required documents.
All students living on Curacao must purchase a round-trip airline ticket back to their place of origin in order to comply with Curacao Immigration requirements. Since January 1st 2007, US citizens require a passport to get back to the United States.
FLIGHT PLANS:
Please contact your admission officer with airline, flight number, date and time of arrival. Arrangements will be made to meet, greet and transport you from the Curacao International Airport to the campus. You must purchase a round-trip ticket. Curacao Airport code for booking airplane tickets is CUR.
PASSPORT:
All students entering Curacao must have a valid passport from their home country. If you do not have a passport, you should apply immediately.
The University supplies students with Acceptance Letter. Carry this letter with you. You may be asked by an Immigration Officer to present it .
Have the following items in a folder and keep them with you in your bag or carry-on luggage. Additionally, many of these items and documents may be required at check-in for your flight.
Airline Tickets
Passport
Immigration Letter (where applicable)
Acceptance Letter
Registration Voucher
LUGGAGE:
All airlines have guidelines for the number, weight, shape and size of carry-on and checked baggage. Make sure your carry-on does not exceed the size limitations.
You will be charged for any additional weight. And at certain times of the year, extra baggage is not allowed. Remember to contact the airline of your choice for details before leaving for the airport. Call the particular airport of departure for this information.
Students should generally not have a problem bringing items for personal use and gifts to Curacao. Prescription drugs, particularly if they contain narcotics, should be clearly marked.
If you are traveling with expensive jewelry, you may want to bring a present proof of prior possession such as a receipt of purchase, bill of sale, insurance policy, or jeweler's appraisal. You may take foreign-made items bearing serial numbers (e.g. cameras, watches, tape recorders, gift and folders for a convention) to Custom Offices for registration before leaving the U.S.A. Additionally, if you wish to carry over $10,000 with you, you will have to declare it.
Note: If you have any questions before leaving, please call your Admission Officer.