Everything an international student would need for living can be found on Curacao. The island has been a major trade center for hundreds of years so It's not surprising that supermarkets and stores are stocked with quality items from around the world. While some people think museums reflect the culture of a country, but in fact the markets and shopping areas tell a lot about the history and lives of the people.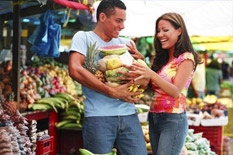 SUPERMARKETS
The shelves of Curacao's supermarkets and specialty food shops are well stocked with a variety of goods from around the world and also some local products. Because of its prosperity and its role as a major Caribbean transshipment center, Curacao imports virtually all the food that is consumed locally. Supermarkets carry European, American as well as South African products.
It is easy to shop on Curacao. Shop employees are generally fluent in English. Most stores accept US dollars and major international credit cards. Although prices are fixed and there is no bartering, if you hesitate about buying, you may be offered a "special price."
Another marvelous thing about shopping on Curacao is the relative small distances. You can accomplish all this buying in a day or two. Prices are very competitive and in some cases up to 30% less than in the United States.
So you will still have time to study for a next exam and money to enjoy the rest of this island paradise.
Best shopping tip: wear comfortable shoes and enjoy the sights and sounds and smells along the way.
Supermarkets come in all shapes, sizes, styles and price classes here on Curacao. Generally speaking, you will find that the prices are somewhat higher than you are used to, but this is because everything has to be imported. 
What often happens is that an item will be a lot cheaper in one place, and something else will be a lot cheaper in another – so keep your eyes open for fluctuations and special offers. The rule of thumb is to use your colleagues at school for personal recommendations, and then make your own price comparisons.
A new type of store has just made its appearance on Curacao – the American-style wholesale warehouse. These are often much cheaper than the supermarkets, but only if you are buying in bulk, or need household items. Be selective in the beginning, until you have got the feel of the place.
At the other end of the spectrum, there are numerous little grocery stores (called "Toko's" or "Fruterias") which are family businesses, usually run by the Portuguese. You will probably find a toko close to your home where you can get food in an emergency. Their hours are more flexible than those of the big supermarkets, and they often stay open on Sundays and holidays.
Tips: Cheese lovers will not be disappointed because cheese, particularly Dutch, is one of the few items that is a lot cheaper than in the U.S.A. If you like strong coffee, the Dutch (Douwe Egberts) and Colombian makes are excellent.
Bakeries 
The better supermarkets have their own bakeries and their bread is usually deliciously fresh. There are also a number of bread factories which supply regular sliced bread and "pan frances" (long crispy rolls) to the supermarkets and small grocery stores. Two independent bakeries, the Hollandse Bakkerij, Ilandweg (close to school) and the Zoete Zuikerbol, Winston Churchillweg, are highly recommended.
Dairy Produce 
There is a wide choice of local and imported dairy produce. Both American and Dutch products are available, but do check the expiration date. As mentioned earlier, the Dutch cheese "wheels" are particularly recommended. If you want to take one back with you to the USA, buy it at the supermarket or in the wholesale food store, not in the tax-free shop at the Airport where it is twice as expensive. There will be no problem taking it back to the USA if you mark your customs form "Factory packed cheese".
Fish 
Zuikertuin is the only supermarket that sells fish every day. The others sell frozen fish, and sometimes fresh fish on Fridays and weekends. There is one fish specialist, called the Vis Paleis (Ilandweg, close to the school) which sells fish from Holland, often freshly flown in. You can also try the Venezuelan boats at the Floating Market. However, if you want really fresh fish, it is worth visiting the places where local fishermen sell their catch: Caracasbaai, the Koredor (behind the desalination plant) and Westpunt are three of them; however, it can sometimes be difficult to hit the right time when the boats have just come in. You will probably notice a number of street stalls in strategic locations selling fresh fish. Despite Curacao being surrounded by the ocean, fish are not as prolific as some years ago. This fact is reflected in the price.
Fruit and Vegetables 
You will find a good choice of imported fruit and vegetables in all supermarkets. It may not look quite as fresh as you are used to in the U.S.A., but the quality seems to be improving daily. Again, you can also go and visit the Floating Market which sells produce from Venezuela. Sometimes there are very good buys here, such as large bags of oranges to squeeze fresh O.J. for your daily breakfast. Don't be put off by the greenish color of the oranges – it just means they haven't been dyed. 
The small grocery stores (fruterias and tokos) are another source of fruit and veggies if you are in a hurry and don't have time to go to the supermarket. Locally grown produce, when available, is sold in some supermarkets, but more often in the little "tokos". The supermarkets also have a huge assortment of American and European tinned goods. Be selective when buying frozen produce which sometimes gets "freezer burn". N.B. Locally grown limes are usually available the whole year round – they are delicious. If you are lucky, your landlord/lady will have a lime tree in the garden. If so, ask if you can pick them from time to time.
Indonesian/spicy food 
All of the big supermarkets have a wide selection of Indonesian products, which are now so popular in the US. "Conimex" is a well-known brand, but there are plenty of others. The peanut sauce ("Pindasaus" in Dutch) is excellent. Meat Most beef is imported from Brazil or Argentina. Leaner than American cuts, it is also healthier. American prime is available in the better supermarkets, but very expensive. Imported pork is readily available, at reasonable prices, as is chicken. Nearly everything is, or has been, frozen. Lamb is sometimes available, but ask the butcher if you don't see it on display. Goats' meat is a favorite among the local residents and is always available at reasonable prices.
Spoilage 
All food products have a shorter shelf life in the tropics. It is advisable to keep practically everything in the fridge or freezer (except tinned food, of course). Ants and weevils love breakfast cereals, flour and sugar, so put these in the fridge for safe keeping. Cookies should be transferred to an airtight container or zip-lock bag and put in the fridge. Fruit and vegetables (except bananas, onions and potatoes) stay fresh longer in the fridge. And of course, it goes without saying that all dairy products must be kept in the fridge. Local residents often put their bread in the freezer, and take out only as much as they need each day. A quick warm up in the oven, or toaster, does wonders. Unless you plan to cook on the same day as you bought it, meat and fish should always be kept in the freezer. Before buying, always check the expiry date on perishable products. Eat leftovers quickly, or put in freezer.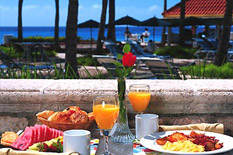 RESTAURANTS
Curacao, with its cultural diversity, offers a large selection of flavorful restaurants. As is to be expected, they present a wide variety of international as well as local cuisine, and each and every restaurant will be sure to make you feel at home away from home. Most restaurants add a 10% service charge besides the 5% government sales tax. An additional tip, if you are pleased with the service, is a nice gesture.
The local food includes delicious seafood, meats and side dishes. Some of the local sea food is Dradu (Mahi Mahi), Piska Kora (Red Snapper), Karko (conch meat), shrimp, and lobster. Kabritu Stoba (goat meat) is also a local specialty. Plantains (fried bananas) are usually served as vegetables or side dishes. Keshi Yena is also very delicious and means "filled cheese"; the cheese is filled with chicken, raisins, beans, and many other good things. Funchi is another specialty and is made out of corn; it's similar to corn bread and is usually fried like french fries. Another local specialty is Iguana soup. Typical side dishes are rice with beans, white rice, french fries, or baked potatoes.
Atop the hill at the entrance of the Schottegat stands the 18th century fortress 'Fort Nassau'. The restaurant within the fortress walls serves a variety of international dishes with a caribbean touch. An extensive wine list and a unique view of the entire island will make your lunch or dinner at Fort Nassau an unforgettable experience. The menu offers a variety of exceptional culinary delights: from creamy mustard soup to caramelized salmon, from U.S. prime beef to a bounty of fish and seafood specialties. No wonder critics say: 'You haven't seen Curacao of you haven't been to Fort Nassau!'
Known on the island as one of the island's most stylish meeting places, join us for an evening of sophisticated fun and entertainment. Enjoy exotic Cocktails in refined surroundings. Sip a frozen mojito to the beat of live Cuban Salsa music on Friday Nights. A selection of enticing seafood appetizers is offered every afternoon and evening mouth-watering ceviche, spicy crab cakes, fresh tuna and more. Specialties: Dining: Fried calamari, oysters Rockefeller and bouillabaisse as entree and a tuna BLT, Key West Grouper sandwich or crab salad wraps as entree. Finish up with a delightful dessert as key lime pie.
A note on dress: beachwear is not appropriate except for beach bars and takeout, shorts and sandals for men are not acceptable at many places. Expect locals to dress very fashionably. Students may want to bring a light jacket or cover.
SHOPPING
Curacao is a shopper's paradise. Some 200 shops line the major shopping streets such as Heerenstraat and Breedestraat. Right in the heart of Willemstad is the 5-block Punda shopping district. Most stores are open Monday through Saturday from 8am to noon and 2 to 6pm (some 8am-6pm). When cruise ships are in port, stores are also open for a few hours on Sunday and holidays. To avoid the cruise-ship crowds, do your shopping in the morning.
Punda is the city's commercial center, with several upscale boutiques selling fashionable designer clothing, perfumes, imported linens and expensive jewelry. There are other smaller streets and shops selling electronics, souvenirs and bargain clothing. It's hard to beat Willemstad for shopping ambiance. You bargain hunt in exquisite, centuries-old buildings while ocean liners cruise up the channel that cuts through the city.
Look for good buys on French perfumes, Dutch Delft blue souvenirs, finely woven Italian silks, Japanese and German cameras, jewelry, silver, Swiss watches, linens, leather goods, liquor, and island-made rum and liqueurs, especially Curacao liqueur, some of which has a distinctive blue color. The island is famous for its 5-pound wheels of Gouda and Edam cheeses. You'll also see wooden shoes, although we're not sure what you'd do with them. Some of the stores also stock some deals on intricate lacework imported from Portugal, China, and everywhere in between. If you're a street shopper and want something colorful, consider one of the woodcarvings or flamboyant paintings from Haiti or the Dominican Republic. Both are hawked by street vendors at any of the main plazas.
Incidentally, Curacao is not technically a free port, but its prices are often inexpensive because of its low import duty.
Curacao has been a major trade center for hundreds of years so it's not surprising that stores are stocked with quality items from around the world. Strolling around in exquisite, centuries-old buildings while ocean liners cruise up the channel that cuts through the city, so close you could almost touch them, all this makes the shopping ambience very special.
The city's commercial center, Punda, has numerous shops offering everything from clothing to jewelry and souvenirs On the outskirts of Willemstad there are some elegant shopping centers. No matter where you go, the salespeople are courteous and attentive and will effortlessly switch between English, Spanish, Dutch and Papiamentu, sometimes in the same conversation.
The Harbor Duty Free Zone
This Free Zone is the largest in the Caribbean. It is patronized by retailers from throughout the region, who come to stock up on goods from all over the world. It's a distribution center for clothing textile, shoes, perfumes, pharmaceutical products and many other wholesale or retail sale goods with attractive duty free prices. The Harbor Free Zone is a fenced-in area of 57 acres. The majority of companies established in the Harbor Free Zone consists of trading companies that distribute products from the United States, Europe and Asia to the Caribbean and Latin America. There is also tax-free shopping at the free zone. Goods purchased in the Free Zone must be shipped directly to your home or transferred to your ship or flight. You can pick them up when you arrive home.
Airport Free Zone
The Airport Free Zone is located adjacent to the International Airport Hato, 8 miles (13 kilometers) from the seaport and 7 miles (11 kilometers) from town. The Airport Economic Zone is especially advantageous for companies that export goods by air. Being part of the airport customs area, the Free Zone is especially adventurous for the transshipment of high value, low volume consumer and capital goods.
The items purchased at the free zone, may not be taken out of the zone. These items will be delivered to the buyer at the airport. Buyers at the free zone must always have a valid passport, airline ticket or an immigration card at hand.
Curacao offers many shops. Most of them can be found in the downtown area of Punda and Otrobanda, but there are also several excellent shopping centers scattered around the island.
In Punda, the city's commercial center, you can find shops offering a variety of shopping items like clothing, footwear, cosmetics, jewelry, perfumes, electronics and souvenirs.
More culturally oriented Otrobanda's main shopping street is the Breedestraat.
Shops are normally open from Monday to Saturday, and the regular opening hours are 8:00am – 12:00pm, and from 2:00pm – 6:00pm.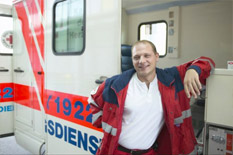 SERVICES
Curacao offers state of the art services, matching world standards. These services include the local water and electricity company, which offers safe to drink tap water and reliable electricity, and also communication and medical facilities.
There is a state of the art dialysis center that allows dialysis patients to tend to their medical needs while studying on the island. CDC guarantees the best quality of care in a beautiful, friendly and luxury environment. The facility currently has 10 leather chairs. Each chair has its own flat screen TV, and the treatment room offers wireless high speed internet connection.
In case of emergency:
Call the emergency number you need. Stay calm, and tell the person on the other side of the line what you need and where you are.
An emergency number is intended to be used only in an emergency. Emergency and important phone numbers:
Ambulance: 912
Police: 911
Fire Department: 911
Hospital: 910
Coast Guard: 913
Youth Telephone: 109
Animal Ambulance: 465 1616 (6.00 am – 11 pm)
Water/Power Outage: 0800-0135
Long Distance Operator: 021
Local Phone Numbers: 9221
International Phone Numbers: 022
Telegram: 0231
Pharmacies 
are called APOTHEKEN in Dutch and BOTICAS or BOTIKAS in Papiamentu. Pharmacies also sell general drugstore items. However, remember that articles like toilet paper, toothpaste, deodorant and shampoo are usually cheaper in the supermarkets. Bring prescriptions from your home country if you need any special medicine. Most prescription medicines can be found on Curacao. The local papers publish a list of pharmacies on duty at night and at the weekend. There is a complete list of pharmacies in the Yellow and Blue pages of the telephone directory.
Hair Stylists/Barbers 
For women this is an expensive business. Hairstylists who specialize in European type hair are listed below. For Afro-American styles, there are plenty of stylists to meet every pocket and special request. Barbers for men are relatively cheap. Consult a colleague for recommendations as there are many stylists who run a home business and are cheaper than the advertised salons. We suggest you ask for a price before you get anything done. KAPSALONS in the Yellow pages for women and unisex, KAPPERS for men only.
Utilities
on Curacao, as elsewhere are of the most importance. Therefore some knowledge about the different companies activities and how to reach them is essential. On these page we give you some information on utility companies and related services.
Curacao gets its water from the sea. The world's largest desalination plant is located here and produces delicious tap water. In houses there is no hot or cold water, just the water, and its temperature depends on how strong the sun is.
Electricity is 127/120 VAC at 50 hertz. This means that most appliances made in the USA (60 hertz) will work well, except for electrical devices with internal time mechanisms. For electrical appliances from the USA you do not need an adapter plug. We use the same two-pronged flat plugs as in the States.
Visitors from Europe will need an adapter plug for their round-pronged plugs. These can be found anywhere on the island and most hotels keep them in stock and in the rooms as well. Only dual-voltage appliances from Europe can be used on the island.
It's best to use some multi purpose transformers that are made for this current. Some appliances such as refrigerators need special transformers. Houses usually have the above current in addition to 220 volts, mainly used for air conditioners, washing machines, etc. Water and electricity may drop out on occasion. For cooking, every house has gas bottles to operate stove and oven.