Even though Curacao is the biggest Antillean island, many places are within a walking distance from the campus and dormitories. However to make students' life easier, Curacao offers many convenient options to commute. From public and university transportation to purchased or rented cars, mopeds or bikes, everyone will find a suitable way to move on the island.
We have listed below descriptions of the most common methods of transportation used by CMU students.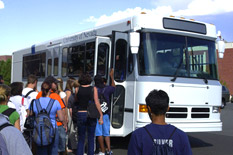 SCHOOL SHUTTLE
The main form of travel is by the Campus Shuttle. It transports students between the main campus and the student dorms.
The Shuttle Service begins in the morning at 8:45 a.m. and ends at approximately 3:00 p.m., Monday through Friday except for local holidays. It is not available on Saturdays and Sundays.
There is no charge to take the University bus but a Student ID must be shown to board the van.
Pick up and drop off locations are updated regularly according to recommendations of the Student Government Association, which represents CMU student body in the process of improving transportation services.
The round trip between school and the dorms should take no more than 10 to 15 minutes.
Faculty Members, Employees and Students who have questions or comments about the service should email Director of Administration at administration@cmumed.org.
CITY BUSES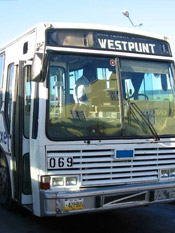 Yes, public transportation is an option on Curacao. Curacao has two different types of busses which are both available for use by students who want commute via public transportation. The major bus system is actually a van or shuttle bus system, and the secondary bus system is made up of more traditional busses. This latter form of bus is called konvoi by locals on Curacao.
The public transport network of buses covers the whole island. There are two major bus terminals on Curacao, both of which are used by both type of bus. The first is located in Punda, near the post office. Twelve bus routes leave from that location. The other is located in Otrobanda, near the underpass. Nine routes leave from that location. Between these twenty one busses, nearly all major locations on the island can be reached by public transportation. Busses run scheduled routes, usually on the hour.
The bus fare for the 'Konvoi' busses is Nafl1/$0.55 for rides within the city and to locations Eastwards and Nafl1,50/$0.82 for rides Westwards.
For further information, regarding timetables and destinations, please call the bus company at +5999 868 4733

MINI-BUSES
One of Curacao's more useful ways of transportation and certainly worth a mention are the minibuses which carry up to nine passengers. They are recognizable by the word BUS displayed on the registration plates. The mini buses run regularly throughout the day until 23.00. Although the mini bus fares are higher than the scheduled bus service, they are safe to travel on and most are air conditioned, making it good value for money.
Mini bus journeys start from the bus depot in Punda and Otrobanda and like the scheduled public buses, they cover the whole island. The destination of the mini bus is displayed on a board on the front and rear windscreens. The mini buses do not operate to a fixed timetable. At peak times the buses are very full which makes for an uncomfortable journey and journeys take much longer because of the frequent stops to allow passengers to get on and off.
The island is divided into three zones to ensure that all passengers pay the correct fare. You pay the driver when you get off the mini bus. The cost of a single ticket is between NAF1.25/$0.69 and NAF1.75/$.96 dependent on the zone and end destination. These prices are fixed for all day time journeys made during the week. It is recommended that the fare is agreed with the driver before starting your journey if traveling in the evening, at weekends and public holidays, as these prices will vary.
Many drivers are eager to accommodate groups of students and will arrange group rates for short trips or provide transportation to social events during off-peak hours, which is helpful in the evening.
Both bus systems are reported to be safe, efficient and inexpensive, making them an excellent method of getting around Curacao, especially for those students who are traveling on a budget.
MOTOR VEHICLES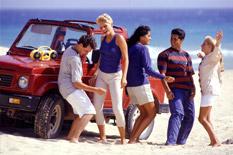 If you plan on driving on Curacao, you must have a valid US, Canadian or International Driver's License.
Students usually purchase used cars along with other colleges to split the costs and then sell them to freshmen upon completion of Basic Science.
Car Rental is another way to have a car while staying on the island and sometimes students use also taxi service for quick and easy method of transportation.
The following hints and tips on the road rules and conditions on Curacao are not meant to put you off!  It's useful to know that the island's inhabitants have a relaxed driving style. 
Motorists on Curacao do not speed. They drive between 30-50 miles per hour.
At a T-junction, traffic traveling straight ahead has the right of way. 
Drivers often stop suddenly in the middle of the road to greet an acquaintance, or because they are lost or want to turn around.
Keep your distance and avoid breaking suddenly which is often the cause of accidents.
Always wear your seatbelt.
Many motorists do not indicate when changing direction. They often cross a road, make a U-turn or drive up a one way street without looking.
30% of road users do not have insurance. If you have an accident, always call 199. Never negotiate any private deals with third parties.
The roads become extremely slippery when it is raining.  Motorists drive at 10-20 miles/hour when it is raining, so take extra care!
CAR PURCHASE
Used cars can be purchases for approximately $1000 to $3000 at local dealers or through newspaper advertisement. There are several car for sale offers on CMU forum, posted by current students finishing the program and willing to sell their cars before leaving the island. You may also check with current student or school's officials for more information on buying a car on Curacao.
To cover all unexpected incidents, damages and avoid further complications, you will also need to purchase a car insurance. Consult the University's Insurance Agency for best rates and full coverage.
CAR RENTAL
There are several car rental agencies on the island — consult a CMU Administration or the Curacao Yellow Pages for a complete listing. Several agencies have desks at major hotels and at the airport. Rates can vary considerably. Expect to pay between US$ 40 and US$ 60 per day. An international credit card or substantial cash deposit is required. Inquire for special rates for rentals of a week or longer.
Available vehicles include standard cars with both manual and automatic transmissions, jeep-like four-wheel-drive vehicles and mini mokes, which are open jitney-like vehicles. Many students get together in a group and rent a vehicle for the term of study. The rate for vehicle rental can range from $400 – $600 US per month.
TAXI CABS
Some students living on Curacao opt to use taxi service from time to time as a supplement to either public transportation or car rental during their stay.
There are many ways to recognize a taxi, they are easily identifiable with the taxi-sign on top of the cab and the letters TX on the license plate. All taxi-drivers carry a badge to identify themselves, and inside the taxi you will also see a label, identifying the driver. Every taxi has a taxi meter with fixed rates for your journey. There are taxi stands at the airport, in Punda and Otrobanda, and outside major hotels.
Taxis are generally the transportation of choice when coming or going to the airport or when stranded at night. Taxi rates are standardized for all cab companies. $10 is enough to get you to most places although $25 is the standard charge to or from the airport. Some taxi drivers will give island tours in addition to taking passengers between destinations.
Informative brochures and books provide information about taxi rates. These brochures, called "Taxi Tariff Guide" can be found on campus, at the Tourist Board, cruise terminals, airport and hotels.
For more information or complaints, don't hesitate to call 163.
BIKES AND MOPEDS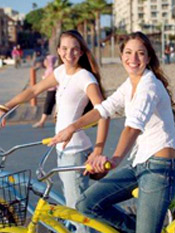 Several students have opted out to use bikes for daily commute. CMU is a strong proponent of cycling as a means to reduce motor vehicle travel and vehicle emissions. We encourage you to ride but please be sure to wear a helmet and ride safely especially on public roads!
Our University actively promotes physical activity and emission free transportation therefore each student presenting a valid receipt of bicycle purchase will receive up to $100 tuition discount.
It is also possible to rent or purchase motorcycles. A bike helmet is not required but strongly recommended for driver's safety.
PLEASE NOTE: The same road rules apply to motorcycles as to the other types of vehicles so please obey all traffic signals and speed limits.