During the first semester, students are recommended to stay in university dormitories, where students will take the opportunity to learn about life on the island and make informed future housing choices.
CMU DORMITORIES
Our University is proud to be amongst the few medical schools in the Caribbean offering student housing. Many students spend their first few semesters at the University, living in our residence hall Andres Bello.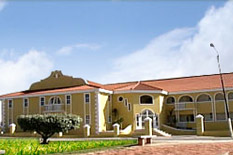 ANDRESS BELLO DORM
The apartments are located within 20 minutes walking distance from the main campus. There is a school shuttle for daily transportation between dorms and campus.
All apartments are fully furnished one and two bed units featuring a study desk, chairs, refrigerator, stove and microwave. They include a small kitchen, dining/living areas and its own private bathroom. The units are fully air-conditioned, have High Speed Wired Internet connection.
Dorm rates for students are as follows:
One Bed Apartment (single occupancy) – $2,800/semester
Two Bed Apartment (double occupancy – $1,800/semester
Dorm rates for guests are as follows:
Daily Rate – $70 per night
Weekly Rate – $350 per week
Contact the office by phone at +(5999) 4615668 / +1 888 8774268 or by email at dorms@cmumed.org for info or to make reservations.
Rent is payable in advance for each semester and includes all utilities, such as electricity, water, A/C, TV, Internet and once a month room cleaning service. Assignments are on a first-come-first-serve basis. Students are required to bring their own bed sheets (twin size) and a router if they wish to have Wireless Internet in their dorm.
You are required to seek off-campus housing if you have children and/or pets, or have received special request from the Housing Office.
Once first semester students have been housed, University Dormitories will be offered to the Upperclassmen on a first-come, first-served basis.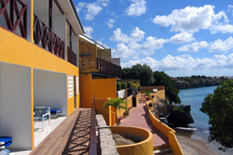 PRIVATE APARTMENTS
Private apartment prices (per month) may range from $300 to $600, depending on the proximity of the apartment to the campus and the amenities offered.  All apartments require one month's security deposit.  In most instances, the security deposit is equal to a monthly rent.  
A list of off-campus accommodations in the school area, can be obtained from the housing department in Curacao.
Additional methods of finding good off-campus housing are:
Word of Mouth – If someone has a house you like, find out when they are moving.
Bulletin Boards at School – Always make a point of reading them, whether you are looking for housing or various other things such as furniture for sale, social events, etc.
Local Real Estate Agencies – Check the Curacao Yellow Pages. It is advisable to have any leases checked over by a local lawyer.
The following qualities should ALL be considered when choosing your "home away from home."
Lease – Leases should be read carefully making sure that everything the landlord promises is included. It may be wise to have a local lawyer review the lease for your protection.
Cost: Check with upperclassman for going rates.
Utilities – These include water, electricity, maid service, gardener, etc. What kind of arrangements do the current tenants have? Who pays?
Convenience – How close is it to campuses, transportation, beach, shopping, etc.?
Appliances – These include a ceiling fan, air conditioning, washing machine and television; make sure they work.
Privacy – How noisy is the neighborhood? Are there loud discos or night clubs, etc? Barking dogs can be an annoying problem in some areas.
Deposits – Clarify the process by which the deposit is returned. The deposit is not usually applied to the last month's rent. Landlords often wait until a tenant moves out and an inspection for damage and inventory has been conducted before returning the deposit.
For more detailed housing information, please refer to the Residential Life brochure. For questions about first term housing please contact the CMU Office.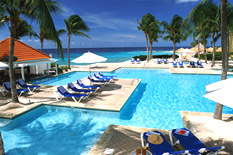 HOTELS & RESORTS
Students' families, friends or other short-term visitors can be offered a wide variety of accommodations to suit everyone's preference, with the island's century long tradition of warm hospitality.
Experienced travelers that have been around the Caribbean, will find Curacao a place that gives very good value for money. In Curacao there are hotels and resorts that cater to any size of wallet, great or small.
You will find plenty of large and luxurious beach front resorts, with a wide choice of activities and entertainment. For those seeking unspoiled charm, the island offers many quaint bungalows and villas that capture the essence of Caribbean living at a quieter pace. And of course, Curacao also offers an irresistible array of appealing and affordable midsize hotel accommodations.
Whether you decide upon a secluded seaside resort, or opt for an international hotel, you will be sure to enjoy your stay on the island far more than a good night's sleep.
Majority of the hotels and resorts are located along the south coast, the beach areas, and in Willemstad. The room rates vary depending on the quality of the complex and location. On average a night at a standard hotel would cost between $50 and $125 and some include daily breakfast.
The map below shows locations of the most popular hotels & resorts on the island as well as the Curacao International Airport and Caribbean Medical University main campus.